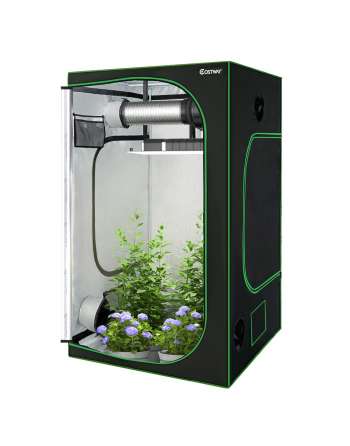 About this item
【High Reflective with Heavy Duty Zipper:】The interior of the planting tent is made of 100% highly reflective mylar to create a light-absorbing environment and better promote plant photosynthesis. In addition, once the heavy-duty zipper with black lining is closed, the fully sealed growing tent will create an enclosed environment for your plants to flourish.

【Easy to View Observation Window:】Featuring with simple observation windows, our growth tent allows you to easily peek inside the interior of the growing situations at any time without disturbing your setup. And it won't require you to bend over to monitor your plants.

【Removable Floor Tray & Storage Bag:】The growing tent comes with a detachable waterproof floor tray to protect your tent from spills or flooding, making it easy to remove and clean when dirty. Besides, it has a storage bag, which provides additional space for storing tools and planting accessories.

【Compact Size for Various Scenarios:】The tent measures 48"x48"x80", suitable for living room, kitchen, balcony and other indoor places. It is the ideal choice for indoor planting.