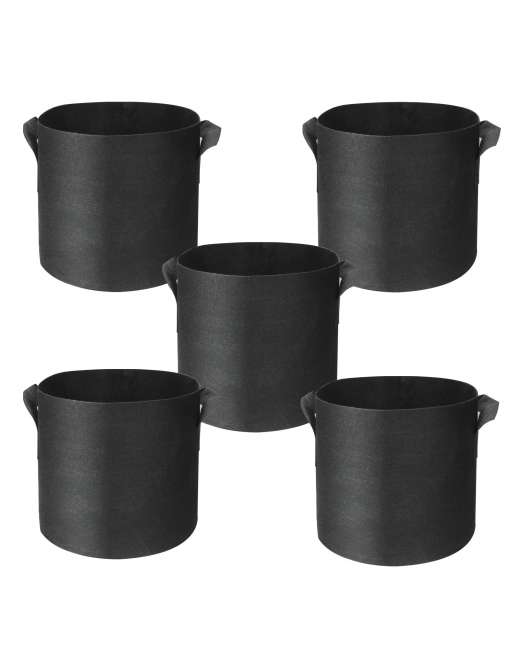  
5-Pack 3 Gallon Plant Grow Bags Heavy Duty Thickened Nonwoven Fabric Pots with Handles
About this item
Sturdy Fabric Material: Made of 300g of thickened nonwoven fabric, these pots are moderately permeable, and BPA-free

Great Drainage: Nonwoven fabric means the pots do not retain excess water, allowing your roots to breathe for healthier, more vigorous growth

Durable, Reinforced Handles: While the competition uses flimsy handles that are merely strips of the same fabric the pot is made from, we use serger stitches to sew handles onto the pot so they can support a full bag of soil

Portable Bags: Heavy-duty handles and rugged material mean you can move bags full of soil and plants with ease

Use It for Years: Grow bags prevent circling root structure; Combined with pruning and trimming roots, these bags can be used and reused for years
Security policy
(Paypal,Credit card secure payment)
Delivery policy
(Free shipping,Arrive within a week)
Return policy
(Free replacement within one month)
How Does Air Pruning Work?
Air pruning happens naturally when roots are exposed to medium-to-low humidity air. These roots are effectively "burned" off, so the plant constantly produces healthy new roots in a branching structure. Roots that are not exposed to air will continue to grow throughout the container, eventually becoming root-bound.
Why Use Fabric Grow Bags?
VIVOSUN fabric grow bags provide a highly breathable environment, keeping roots and soil oxygenated and cool throughout the year. Great for developing robust, fibrous root systems that stay healthy without needing regular root pruning.
300G Premium Series Thickened, Nonwoven Grow Bags
Thickened 300g nonwoven fabric means your grow bags stand upright on their own, making it easy to fill the bag by yourself.
These grow bags provide excellent air circulation and drainage: no need to worry about overwatering.
VIVOSUN grow bags provide better breathability, keeping roots and soil oxygenated and cool throughout the year.
The automatic air-prune feature ensures roots do not get tangled, allowing greater surface area for water and mineral absorption.
Does it Really Increase Yields?
Using fabric grow bags means easy watering, less stress on the plant when moved, and faster transplant times as filling requires just one person, freeing others to handle other work around the garden.
Water Tester Details
Easy to use

All testers will be calibrated before they leave the factory, so after you receive the products, there is no need to calibrate

High Accuracy

Measuring Range: pH: 0.00 ~ 14.00 pH; Temp : 0.0 ~ 60.0℃ (32.0 ~ 140.0℉)
Resolution:PH: 0.01 pH; TDS: 1 ppm; TEMP: 0.1℃/℉
Accuracy: pH: ±0.05 pH; TEMP: ±0.5℃; TDS: ±2% FS

LCD Display

Green backlight LCD design, the iPower pH meter makes it easy to read the test results regardless of the light
Wide Appliaction
| | | |
| --- | --- | --- |
| Drinking Water | Food Processing | Hydroponic |
8 other products in the same category: