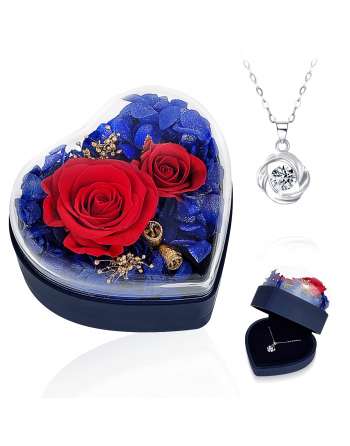 🥇[Preserved Flower Jewelry Box] Rose flower language that never withers: "Passionate and true love, brave longing, sincere gratitude" A popular gift for women in their 20s, 30s, 40s, 50s, and 60s. 

As a wonderful and romantic gift for anniversaries, Valentine's Day, White Day, proposals, confessions, weddings, entrance ceremonies, graduation ceremonies, birthdays, Mother's Day, Christmas, retirement celebrations, women cannot refuse beautiful roses. .

✨【Comes with an elegant sparkling necklace】 The necklace material is zirconia / 925 silver. 

The zirconia rose motif necklace is easy to use every day, and has an elegant design that makes it perfect as a gift. 

The 925 silver finish is gentle on people with metal allergies, so it is recommended as an accessory for everyday use. 

Despite its simple design, the well-made necklace gives an elegant and sophisticated impression.