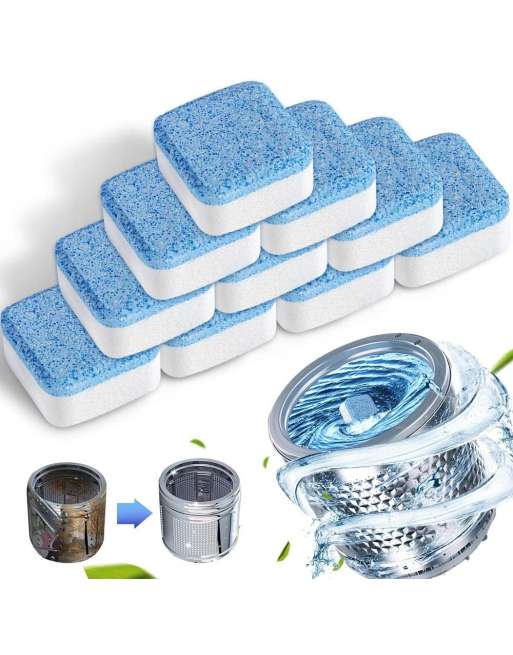  
Solid Washing Machine Cleaner Effervescent Tablet, Deep Cleaning Tablets for All Machines 10 Counts
【Multiple Applications】
Washing machine cleaners are suitable for front-loading washing machines, top-loading washing machines and traditional washing machines. They can also be used for toilet and kitchen cleaning to keep your life in a safe and clean environment.
Security policy
(Paypal,Credit card secure payment)
Delivery policy
(Free shipping,Arrive within a week)
Return policy
(Free replacement within one month)
Nobody likes to wash clothes in a stinky washer! A clean laundry room and a fresh odorless washing machine are essential to washing clothes. We're here to help you achieve that dream laundry room.
Specially Formulated

Dissolve rapidly throughout the entire wash cycle for sustained clean.

Remove Odor

Long-term accumulated stains in washing machines,that cause unpleasant smells on the washed clothes.Using the cleaning tablets to ensure it is thoroughly cleaned the machine at least.So that washed clothes are fresher,cleaner and healthier.

Remove Stains

Triple decontamination and active oxygen decontamination features which has strong dirt removing performance, can effectively clean the harmful and stagnant dirt even if it is invisible.

Improve Efficiency & Safe

Remove impurities and dust in the gaps to improve the washing efficiency of the washing machine.Non-corrosive,does not hurt washing machines and clothes.Safety and environmental protection.
Designed to clean inside all makes and models of top load and front load washing machines.
Tips to keep your machine fresh:
Always remove items from washer as soon as the cycle ends.

After washer cycle is complete, leave door open to allow for better ventilation.

Use only HE compatible detergents in HE washers.

Leave the dispenser drawer open at the end of washer use.
8 other products in the same category: