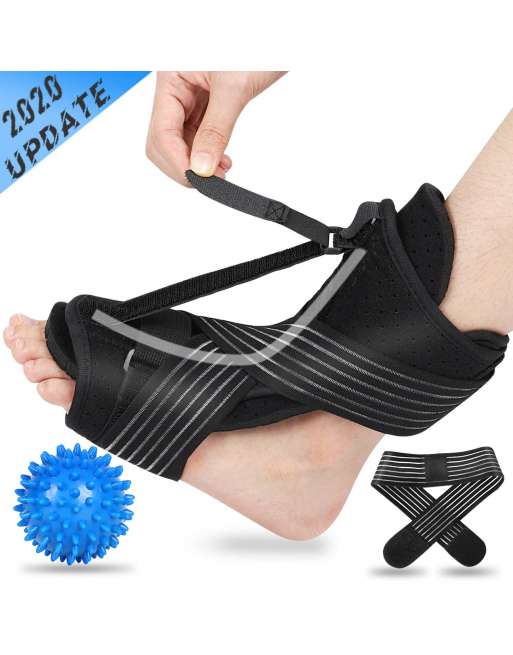  
2020 Updated Version Plantar Fasciitis Night Splint, Efferey Night Splint for Plantar Fasciitis
【Reduce Your Foot Ailments】
Splints For Plantar Fasciitis designed to to keep foot stretched to alleviate heel pain and stiffness associated with plantar fasciitis, drop foot, achilles tendonitis, etc.
The Massage Ball help you promote blood circulation, and the elastic strap help you adjust the tightness and that will ensure the brace stays in place all night long comfortably without sliding.
Security policy
(Paypal,Credit card secure payment)
Delivery policy
(Free shipping,Arrive within a week)
Return policy
(Free replacement within one month)
Why do you need the 2020 new upgraded plantar fasciitis night splint?
Do you have Plantar Fasciitis, Achilles Tendonitis? Are you suffering the foot pain and even can't fall into sleep during night?
Efferey Plantar Fasciitis Night Splint is primarily intended for treating Plantar Fasciitis and Achilles Tendonitis. The purpose of this lightweight plantar fasciitis night brace is by adjusting the degree of the bendable aluminum bar (85-90 degree) to keep the patient's ankle in a neutral position overnight, passively stretching the calf and plantar fascia during sleep. This gentle stretch helps reduce the muscle contracture, inflammation, and associated pain. The open heel design makes your foot cooler and breathable.
How can the splint help my plantar fasciitis??
When wearing the splint, the foot is held in a certain position, called "dorsiflexion". This means that the fascia is stretched, not allowing it to contract and become tighter overnight.
The great thing about a night splint, is that the remedy is quite gentle and the fascia will be returned to it's proper length over a period of time. Once stretched out, the plantar fascia will become less tense and therefore will cause less pain.
What's the function of the spiky massage ball?
Promote Blood Circulation
Before going to bed, massage the soles of the feet for ten minutes through the fascia ball, which can effectively promote blood circulation in the feet and lower extremities. Great to relieve the pain of plantar fasciitis.
Reduce Anxiety and Tension
Massaging feet with fascia balls can greatly reduce people's anxiety and tension
Lower Blood Pressure
Massage the sole of the foot for about 10 minutes every day through the fascia ball, which can effectively reduce blood pressure.
Experiencing a numb feeling in your foot when wearing the brace?
Ironically, this is a sign that the product is doing its job. It takes a couple of days for someone who wears a plantar fasciitis night splint to get used to the stretch provided by the splint.
Initially the stretch can be uncomfortable and can sometimes cause numbness, but once a customer wears it for a couple of nights they are then able to tolerate the stretch and the numbness goes away.
8 other products in the same category: