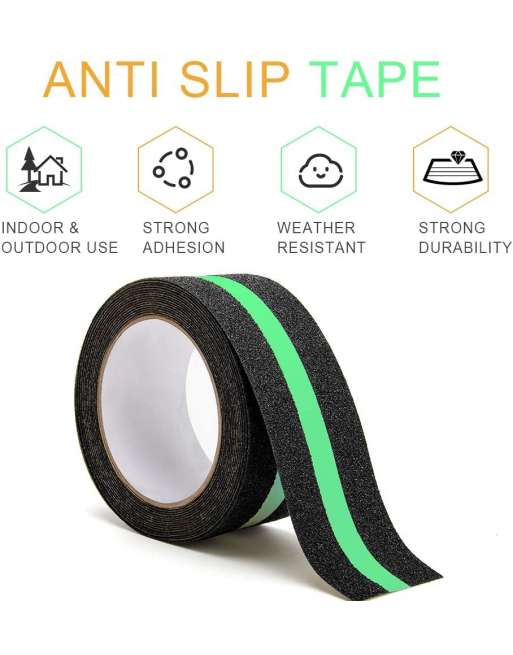  
Non-Slip Glow in The Dark Tape | Anti Slip Adhesive Grip for Stairs and Gaffers| Glow-in-The-Dark (2 Inch x 16.4 Ft)
Widely Used: The glow in the dark anti slip adhesive tape be used for indoors and outdoors on sporting skateboard, steps, walkways, hospitals, public balcony, work areas, industrial equipment, trucks, prevention of slipping accidents etc.
Security policy
(Paypal,Credit card secure payment)
Delivery policy
(Free shipping,Arrive within a week)
Return policy
(Free replacement within one month)
Safety & Improved Visibility In Dark: Our glow in the dark strip prevent slipping, falling and reduce the risk of accidents on slippery wood treads and marble floor steps. The glow in the dark tread tape bright enough to notice at night, the glowing tape green line will tell you the step edge located to improve safety at night, and the bright stripe helps guide your steps also in the daytime.
High Quality Material:The black anti slip tape is made of PET or PVC with solvent adhesive which is soft, environmental, waterproof, high temperature resistance, durable, resistance to chemical corrosion. The slightly textured surface is quartz sand, high-friction, fine-resilient textured, slip-resistant material.
Size Information: The safety-walk slip-resistant tape size is 2Inch x 16.4Feet, the thickness is 0.76mm, the width of glow in dark tape is 0.5Inch. Can be cut to your desired size and shape and easy to install and work with just peel stick.
What You Get: Come with 1 roll 5m(16.4ft) anti-slip tape. This long-lasting and sturdy tape pieces have strong grip to remain steadily in place to avoid accidental falls and slips.
Anti-slip tape installation method:
1,Thoroughly clean the need to paste with cleaner clean (especially the oil pollution), and ensure that the ground is flat and level dry rear can stick anti-skid tape.
2,Cut out good size, tore open the bottom paper (from type paper), before the installation can use hair dryer cylinder to anti-slip tape and paste surface slightly preheating paste effect.
3,After good available or soft rubber hammer rod through the cloth pat solid guarantee slip tape without bubbles.
4,After good don't touch water 24 hours a day.
5,When clean non-slip tape, need only can wipe gently with the brush and detergent.
8 other products in the same category: