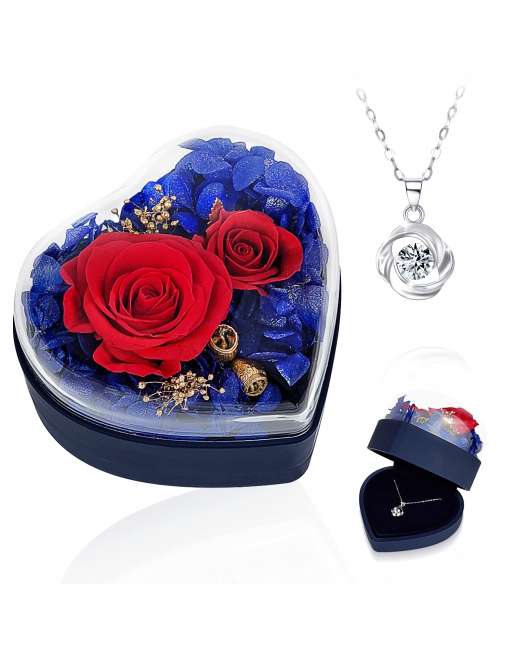  
Preserved Flower Jewelry Box Never Withering Flower
🥇[Preserved Flower Jewelry Box] Rose flower language that never withers: "Passionate and true love, brave longing, sincere gratitude" A popular gift for women in their 20s, 30s, 40s, 50s, and 60s. 

As a wonderful and romantic gift for anniversaries, Valentine's Day, White Day, proposals, confessions, weddings, entrance ceremonies, graduation ceremonies, birthdays, Mother's Day, Christmas, retirement celebrations, women cannot refuse beautiful roses. .

✨【Comes with an elegant sparkling necklace】 The necklace material is zirconia / 925 silver. 

The zirconia rose motif necklace is easy to use every day, and has an elegant design that makes it perfect as a gift. 

The 925 silver finish is gentle on people with metal allergies, so it is recommended as an accessory for everyday use. 

Despite its simple design, the well-made necklace gives an elegant and sophisticated impression.
Security policy
(Paypal,Credit card secure payment)
Delivery policy
(Free shipping,Arrive within a week)
Return policy
(Free replacement within one month)
Language of flowers: "Passionate and true love, brave longing, heartfelt gratitude"
When your loved one receives your jewelry box, she will be surprised and happy.
Valentine's Day White Day Tanabata Festival Present
beautiful roses for the most loved ones
Mother's Day New Year New Life New House Birthday Gift
birthday gift wedding gift birthday gift
Necklace material is zirconia / silver 925
Rose motif necklace using zirconia is easy to use everyday
Venetian chain length: 45cm free adjuster
8 other products in the same category: