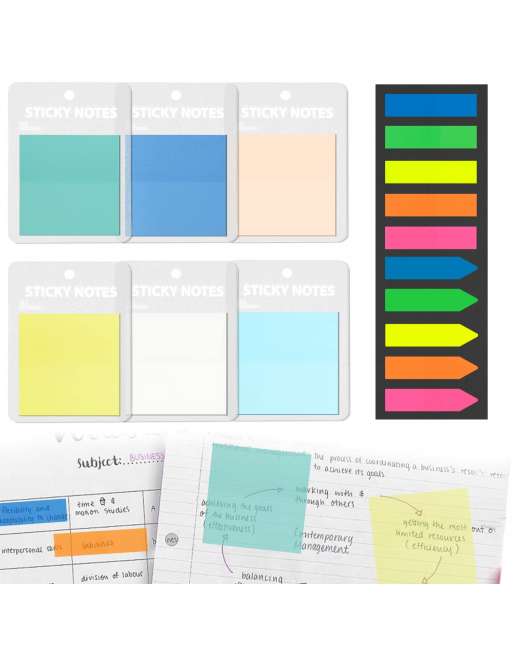  
Clear Sticky Notes, Transparent Sticky Note Pads, Translucent Colored Stickies Notes
📚【Practical Design】: Transparent sticky notes Compared with traditional sticky notes, a clear sticky notes design can avoid blocking the original files, on the page adds annotations to books or mark important documents without stain book, sticky notes clear making learning easier.

🎁【Wide Applications】: Transparent post it notes ideal for school (students, teachers), offices, study rooms, or family use. You can stick the Transparent notes on books, notes, bible, doors, walls, whiteboards, tabletops, bathroom mirrors, and any other smooth surfaces. All need these transparent sticky notes, send them to your friends, kids, partners, parents, etc.
Security policy
(Paypal,Credit card secure payment)
Delivery policy
(Free shipping,Arrive within a week)
Return policy
(Free replacement within one month)
Transparent Sticky Notes Colorful
Clear sticky notes suitable for reading、studying、 home、office、school
See-through sticky notes made of paper and PET, so it is waterproof and can be repositionable.
Package Content:
Transparent Sticky Notes-6 Pads*50 Sheets per Pads & 1 Pads Index Tabs (200 Sheets)
1*Sky Blue
1*Dark blue
1*Lemon
1*Grass Green
1*Pink
1*Clear
1 *5 Colors Index Tabs (200 Sheets)
300 Sheets Transparent Sticky Notes from SENJWARM
Colorful transparent sticky notes are see-through, which will improve the use and effect of regular stickers.
You can look through the clear note to see the object and content underside, the surface of the pasted object will not be obscured, completely in front of your eyes.
You can get the following experience:
Reading Notes Assistant: You can watch the text above and below the sticker at the same time to enhance your reading and learning.
Office Document Assistant: Write on transparent sticky notes, which will not dirtied the books and documents
Transparent Design

Made of transparent material, the adhesive part won't cover up any information, is easy to write, free to remove and re-position.

Office Memo

Remind your work schedule and to-do items to improve your work efficiency.

Easy to Tear

memo pad notice fridge board, learning, family memo message, easy delete, memo message, self-adhesive memo papers, reminder, scratchpad.

Which Pens Can You Use

Please look at the picture display above
Writable

Suitable for a variety of pen writing,you can write on them with a pen,ball point pen or pencils and doesn't leave any ink behind.

Colorful and Practical

Bright neon colored index tabs are eye-catching, ideal for marking and highlight important documents, bookmarks, reading labels, measurements, charts, etc.

Marking Key Points

Morepack page markers can help you organize your studies and find important information quickly and easily and little cute page markers help you make reading more fun.

Learning Helper

Morepack page marker is very helpful for your study and work. These page markers can help keep your study organized. You will find what you want easily.
8 other products in the same category: