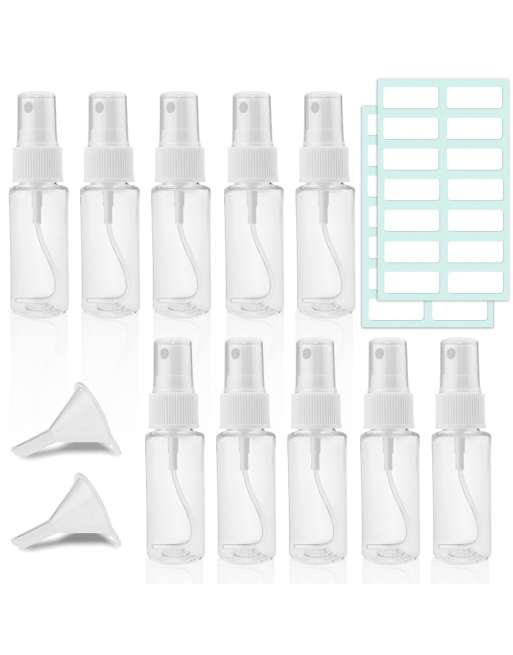  
Clear Spray Bottles PET Empty Fine Mist Plastic Mini Travel Bottle Set
✈【Wide Application】- Great plastic spray bottle for homemade cleaning solutions, home hair care, garden and plant care, pet training and more. The travel mist bottle also can be a portable hair spray bottle and great for travel, vacation, camping, business trips. Enough to use for most scenes.

✅【Healthy and Safe Material】- CLear spray bottles are made of high quality plastic, BPA free, durable, refillable and reusable, tasteless and non-toxic, TSA approved travel bottles, you can take them everywhere. Colored plastic provides UV protection for your ingredients
Security policy
(Paypal,Credit card secure payment)
Delivery policy
(Free shipping,Arrive within a week)
Return policy
(Free replacement within one month)
Plastic PET 30ML Spray Bottles with Fine Mist Atomizers (10-Pack)
Uses
Essential oil blends
Personal and hair care products
Plant care
Insect repellent
Auto care products
Hand sanitizer sprays
Alcohol and disinfectant sprays
DIY Cleaners
Air fresheners
Screen cleaners
Our Clear plastic bottles include a fine mist spray atomizer top with a clear cap to prevent accidental spillage.
They are made from BPA-free #1 PET plastic which makes them both food and medicine safe.
Use these refillable plastic bottles for a variety of household uses like essential oil blends, alcohol sprays, cleaners and DIY hair spray.
Note: It is recommended not to use plastic containers for 100% oils but acceptable to use plastic for oil blends (5% essential oils, 15% regular oils)
UV Protection

PBA-free spray nozzle

Looks great on the counter

Durable Plastic

Make your own DIY, organic products.

Come with 2PCS Funnels& 24 Labels

The fine mist spray bottle comes with 2 funnels which can help you to easy to transfer the desired liquid. Mini fine mist bottles come with 24 labels which can help you identify the different liquid in the bottle easily, save your time and hassle.

Very Fine Mist

The upgraded spray nozzle comes out a very fine mist that is evenly distributed. The spring-loaded button of the mini plastic spray bottle to provide comfortable use. The bottles have strong jet force which can spray a long distance.
Plant Mister Spray Bottle

Indoor plant sprayer is suitable for bonsai, pineapple, ferns, flowering plants, etc. In addition, it looks great on the counter.

Multiple Use

Square fine mist spritz bottle are perfect for essential oils, for face, DIY beauty products, aromatherapy, pillow mist, air freshener, and any other mixtures.

Spray Bottles For Cleaning Solutions

Great for your personal, organic, BPA-FREE, essential oil blends and home cleaning solution recipes.
8 other products in the same category: