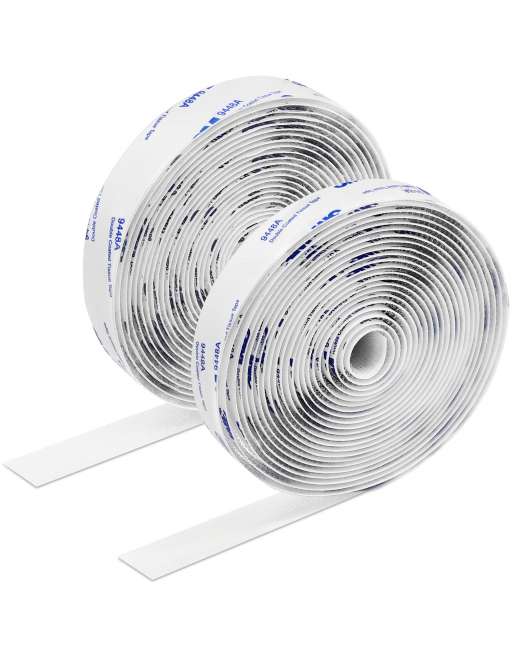  
Hook and Loop Tape, Heavy Duty Adhesion Strip Tape
【High Quality Hook and Loop Tape】Width: 1 inch. Rolls:1 roll of 16 feet hook tape,1 roll of 16 feet loop tape(32 feet in total). Self adhesive hook and loop tape can provide high strength, long lasting hold and safety hanging. And the hook and loop fastener is a safe and environmentally friendly alternative, so it won't damage the product or anything stuck together, and also can removable and reusable .

【Widely Use Adhesive Strip】The hook and loop self adhesive strips with sticky back can be applied on any smooth surfaces of walls, plastics, wood, glasses, etc.The adhesive double sided works great in any area such as home, office, tents, school, car,etc. Its convenience makes it possible to use in many unexpected places in life and make your life easier.
Security policy
(Paypal,Credit card secure payment)
Delivery policy
(Free shipping,Arrive within a week)
Return policy
(Free replacement within one month)
These hook and loop tape have Industrial Adhesives on the back so they're easy to apply and engineered to adhere to a variety of substrates across multiple applications
HIGH QUALITY:
This hook and loop are essential to you, can help you fix your items in place

Provides great design flexibility and fast product assembly.

Can be cut into the shape you want! It can also be used to fix table skirts, chair cushions, bed skirts, etc.

High temperature resistance and durable.

Strong adhesive and easy to removal.

Good for either indoor or outdoor use.
It is annoying and worrying when pets run wild on a sliding carpet, or when family and children trip over the carpet while playing?
Solve your worries, enjoy your daily life!
Don't be afraid, it's coming. No more slips, no more accidents! Using our self-adhesive fastener tapes can fix your carpet in place and help reduce the accumulation or movement of the carpet, allowing you to get rid of these troubles.
9448A is a double coated pressure sensitive adhesive tape.

High adhesion acrylic pressure sensitive adhesive is coated on both sides of flexible tissue film.

It has good bond strength on many types of substrate including low surface energy plastics on which most acrylic adhesive can not adhere well.
Bond > Lock:

These hook and loop fasteners have Industrial Adhesives on the back so they're easy to apply and engineered to adhere to a variety of substrates across multiple applications

Multipurpose-use Loop Tape:

Industrial Strength Long-lasting Hold can be used for carpets, wall decorations, offices, mobile power supplies, curtains, security cameras, remote controls, stairs, computer peripheral wire binding.

Strong Adhesive Tape:

Premium quality adhesive can help your product have better adhesion anywhere, without worrying about the loss of the product due to falling off. Adhesive reaches maximum strength after 24 hours.
How to bond the back side:

A: Clean the surface(with 4298UV adhesion promoter if possible)

B: Wipe dry the surface to obtain optimum adhesion.

C: Applying tape to surface .

D: Roll/press finished joint to help building bond strength.

Warm Note:

1.The Industrial strength both hook and loop strips can can be removable re-usable.

but when it is peeled off and reused after being glued, the performance of sticky back will decrease.

2.When fixing objects, multiple adhesive tapes will be more firm when used together.

3.Do not use the mounting tape on rugged or uneven surfaces, poor material or paint wall.

4.Do not hang heavy objects, fragile, or dangerous goods to avoid danger.

RECOMMENDED:

Securing fabric to furniture cushions. Point of purchase display and signage. General industrial applications. Marine and specialty vehicle applications. Whatever your DIY or craft project, use our Hook and Loop Tape as a great alternative to nails, tack and glue. An essential item in any home, school or office, choose from stick on hook and loop tape in a variety of colours and sizes to suit your project.
8 other products in the same category: