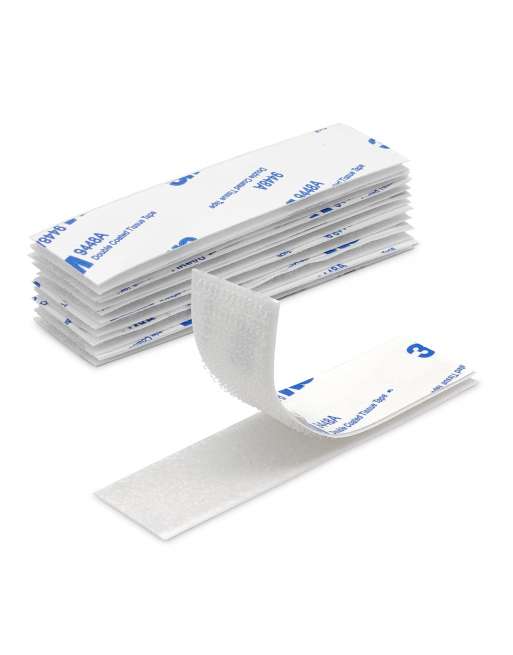  
15Pairs Upgrade Hook Loop Strips with Adhesive, 1 x 4 Inch Heavy Duty Mounting Tape
【SUPERIOR STRENGTH】15 sets ( complete set ) 2" x 4" self adhesive hook and loop tape can provide high strength, long lasting hold and safety hanging. Strong adhesive fastener hold up to 6lbs items, Long-term adhesion and leave no residue after tearing-off. Double sided strips coated with high quality waterproof glue.

【WIDELY USED LOOP TAPE】Due to its lightweight material, hook loop tape can be fixed onto almost anything such as carpets, cushions, picture frames, household, tent, curtains, couch , hanging photo frames, hanging tools, etc. Its convenience makes it possible to use in many unexpected places in life.
Security policy
(Paypal,Credit card secure payment)
Delivery policy
(Free shipping,Arrive within a week)
Return policy
(Free replacement within one month)
Solve your worries
It is annoying and worrying when pets run wild on a sliding carpet, or when family and children trip over the carpet while playing?
Don't be afraid, it's coming. No more slips, no more accidents!
Using our self-adhesive fastener tapes can fix your carpet in place
Help reduce the accumulation or movement of the carpet, allowing you to get rid of these troubles.
Enjoy Your Daily Life
SENJWARM self adhesive hook and loop sticky back tape fastener, a must have for any home, school or office.
Strong Adhesive Tape
Premium quality adhesive can help your product have better adhesion anywhere, without worrying about the loss of the product due to falling off.
Multipurpose-use Loop Tape
Industrial Strength Long-lasting Hold can be used for carpets, wall decorations, offices, curtains, security cameras, remote controls, stairs.
NO Tools Required
Instead of Holes and Screws. Easy to use on metal, glass, woods,ceramics, and even painted wall boards and other surfaces.
Perfect for Gift
Hook and loop fasteners with professional-grade adhesive are perfect for holding things in place. Can be cut into the shape you want!
Multiple Size Comparison
1X4 inch

1X4 inch

2X4 inch

2X4 inch

4X6 inch

4X6 inch

Set Quantity

15Pairs/Set
15Pairs/Set
15Pairs/Set
15Pairs/Set
10Pairs/Set
10Pairs/Set

Color

White
Black
White
Black
Black
White

Size

1X4 inch
1X4 inch
2X4 inch
2X4 inch
4X6 inch
4X6 inch

Material

100% Nylon
100% Nylon
100% Nylon
100% Nylon
100% Nylon
100% Nylon

Features

Adhesive Tapes
Adhesive Tapes
Adhesive Tapes
Adhesive Tapes
Adhesive Tapes
8 other products in the same category: