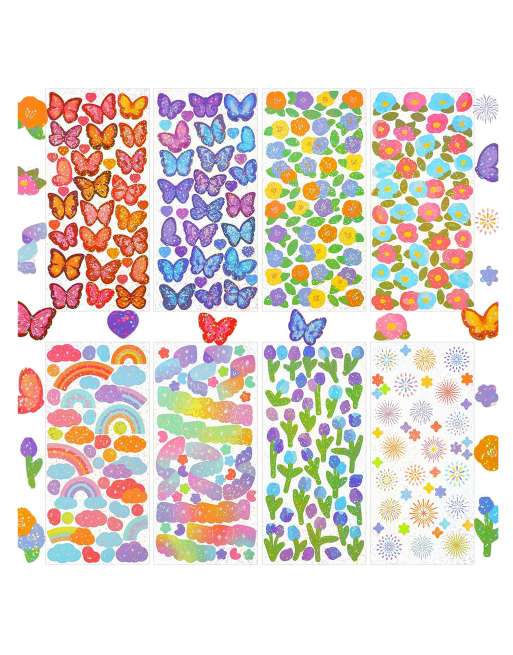  
8 Sheets Scrapbook Stickers Laser Ribbon Stickers Waterproof Stickers
[Beautiful and simple notebook stickers] Beautiful planner stickers that are not random but have a simple design. 

Most of the patterns are inspired by confetti sprinkled at weddings, parties and carnivals to make people feel happy.

【Widely Used Plastic Stickers】This glossy scrapbook sticker pack is perfect for personalized scrapbooks, calendars, arts, DIY crafts, photo albums, greeting cards and photo albums. 

As it is waterproof, it is also suitable for decorating laptops, computers, phone booths, bottles, cups, windows, walls, etc.
Security policy
(Paypal,Credit card secure payment)
Delivery policy
(Free shipping,Arrive within a week)
Return policy
(Free replacement within one month)
*What is Laser Printing* A printing process that uses advanced technology that allows printing on smooth surfaces with laser inks (inks with optical discoloration and anti-counterfeiting properties for metals). Looked at another way, the finished print is discolored and glossy. It gives a more elegant and superior feel.
technical index
Material : plastic
Packing size : 100 x 220 mm (8 sheets)
Packing : plastic bag
Package includes 8 confetti stickers
-Decorative stickers are not suitable for children under 3 years old.
- Use under adult supervision. The parts are too small and may cause suffocation.
- Stickers are somewhat waterproof, but not 100% waterproof
8 other products in the same category: