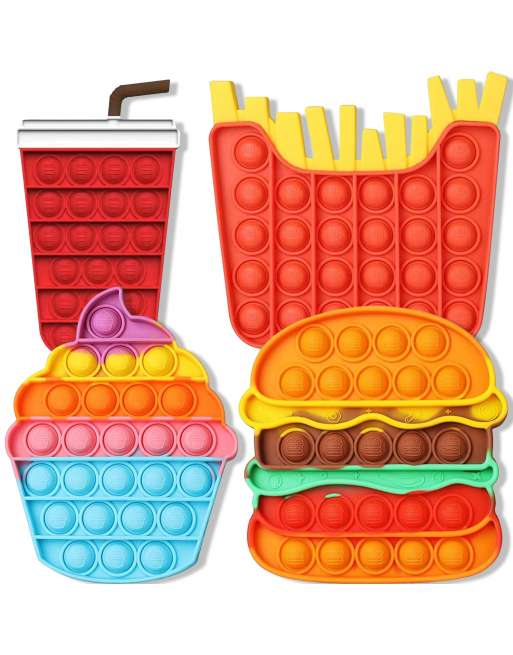  
SENJWARM Squeeze Toy, Push Pop, Toy, Stress Relief, Educational Toy
🍔🍟🥤 [Stress Toy Goods] Popular! This push pop toy can be expected to have various effects such as relieving stress and anxiety, improving concentration, improving work performance, and drawing inspiration. 

You can bend the product and squeeze it without any problem, and you will be able to relieve stress without knowing it.

🍔🍟🥤 "Popular Game" - You can play in a variety of ways, such as multiplayer, elderly, children, adults, and parent-child games. 

The rules are very simple, easy to learn, and fast and good. 

At the same time as playing, it can train children's logical ability, concentration, social ability, and reasoning ability, and it is also useful for intelligence development. 

The perfect educational toy for family, friends and children to enjoy creative time together.
Security policy
(Paypal,Credit card secure payment)
Delivery policy
(Free shipping,Arrive within a week)
Return policy
(Free replacement within one month)
The Newest Toy of the Year--Push Pop Squeeze Toy--Relieve Stress Sensory-Squeeze Sensory Toy! ! !
Latest Fidget Toy Gifts for Adults and Kids
Calming Toys for Anxiety, Focus, ADHD, ADD, Autism
Cup: 17*4cm
Hamburger: 14*13cm
French fries :15*14cm
Ice cream: 16*9cm
Material: Silicon
Color: Colorful
non-toxic and harmless
PERFECT KEYBOARD STYLE This toy has keyboard details such as letters, numbers and symbols 1:1
It restores and equips you with all the important basic keyboard skills necessary for early computer learning.
Suitable for school, office, outings, parties, gatherings, holidays, vacations, travel, camping,
beach, bus or plane, parent-child activities. Bring it to the children and play with it.
Kids can stay distracted while you drive and do things.
SENJWARM's pop-it toy packs are BPA-free and contain no phthalates or latex.
8 other products in the same category: