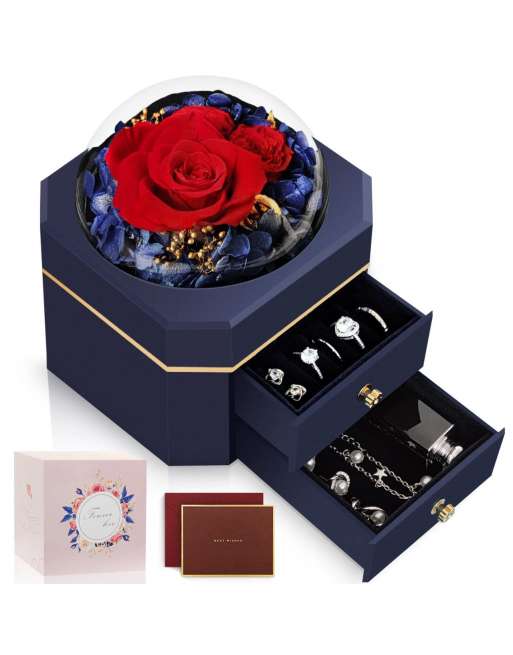  
SENJWARM Preserved Flower, Anniversary Gift, Non-Withering Flower, Girlfriend, Wife, Wedding Gift, Popular, Birthday, Anniversar
🥇 [Preserved Flower Popular Gift Ranking] Flower language of roses that never wither: "Passionate and true love, brave longing, sincere gratitude" A popular gift for women in their 20s, 30s, 40s, 50s, and 60s. 

As a wonderful and romantic gift for anniversaries, Valentine's Day, White Day, proposals, confessions, weddings, entrance ceremonies, graduation ceremonies, birthdays, Mother's Day, Christmas, retirement celebrations, women cannot refuse beautiful roses. .

🎁【Premium Preserved Flower】Product Dimensions: (Approx.) 11.5x 11.5x 14.5cm, Packing weight about 420g. 

🌹Flower materials: We use the finest preserved flowers (quality assurance) with red roses, red Austin, golden full stars, and blue hydrangea, full star, and eucalyptus. 

✨(Note: The acrylic shield cannot be opened.Jewelry is not included.)
Security policy
(Paypal,Credit card secure payment)
Delivery policy
(Free shipping,Arrive within a week)
Return policy
(Free replacement within one month)
A beautiful rose for the person you love most
■ A woman cannot refuse a beautiful rose
SENJWARM's Preserved Flower Jewelry Storage Box selects only the freshest and most beautiful roses, handcrafted by exceptional artisans to ensure that the perfect eternal rose is delivered to you. When your loved one receives your jewelry box, she will be surprised and happy.
■Preserved flowers of the highest quality are used (guaranteed quality) Red roses, red Austin, golden full stars, and surrounding blue hydrangea, Mantenboshi, and eucalyptus.
■ Product size: (approx.) 11.5x 11.5x 14.5cm, packing weight about 420g.
Language of flowers: "Passionate and true love, brave longing, heartfelt gratitude"
What is preserved flower?
Preserved flowers are fresh flowers that have been specially processed so that you can enjoy their freshness and beauty for a long time. Unlike artificial flowers made of cloth or dried flowers, preserved flowers are a new type of flower that can be enjoyed for a long time with soft texture, vivid colors and atmosphere by processing freshly picked fresh flowers. .
It is sometimes called "preserved flower" or "blizzard flower", but it is actually "preserved" flower.
Since there is no need to water or change the water, it is popular as a flower that can be enjoyed all year round even by those who are not good at taking care of it.
■Caution: The acrylic shield cannot be opened. Jewelry not included.
| | | |
| --- | --- | --- |
| A beautiful preserved rose, a beautiful rose for the person you love most, a small gift that expresses your care for your lover. | Delicate and premium outer shell, soft flannel interior to protect your precious jewelry. | Large storage capacity, with 2 layers of drawers to store your jewelry. |
| | | |
| --- | --- | --- |
| Valentine's Day White Day Tanabata Festival Present | Mother's Day New Year New Life New House Birthday Gift | birthday gift wedding gift birthday gift |
This product is guaranteed for 365 days from the date of purchase only if purchased from an authorized "SENJWARM" dealer. If you have any problems with the product, please feel free to contact us by email. We will provide you with satisfactory after-sales service. Customer satisfaction is our top priority.
8 other products in the same category: