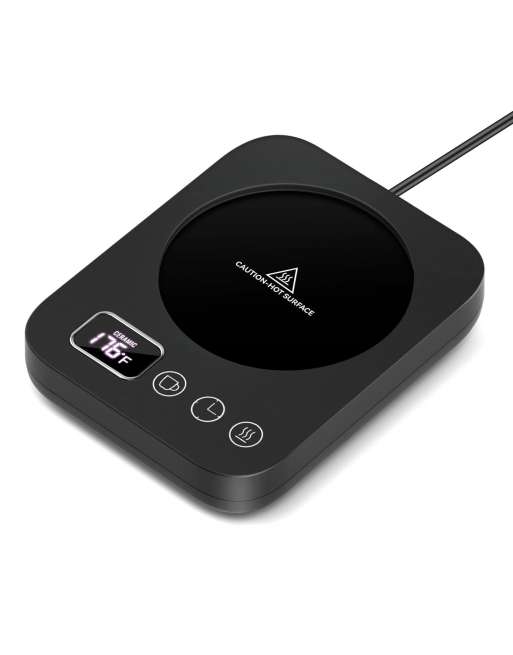  
SENJWARM Mug Warmer, Upgrade Coffee Warmer for Desk with 3 Temperature Settings, Fast Heating Cup Warmer 12 Timer
About this item
☕【Warmer Quick & 3 Temperature Settings】Upgrade coffee mug warmer get warm fast, this cup warmer is extremely easy to use and navigate. Has three setting of temperature from 130 to 180 Fahrenheit. (130-145℉, 150-165℉,170-180℉/55-75°C) 130 is more than enough to keep you coffee a medium warm/hot, great for rewarming. Keep fresh hot coffee with each sip! A must have for the home office.NOTE: It does not support to boil liquids.

☕ 【12H-Timer Settings & Waterproof design】Premium metal panel has better heat-resistant and fire-resistant. Also with waterproof function no need for security concern for occasional water spill. Easy to use and clean, come with the variety of timers, available for 2 hours to 12 hours before it automatically turns off. Touch-tech controls, LED display design, let you know the temperature you want to warm your beverages. Making the cup warmer plate more convenient and intelligent
Security policy
(Paypal,Credit card secure payment)
Delivery policy
(Free shipping,Arrive within a week)
Return policy
(Free replacement within one month)
Upgrate Fast Heating Coffee Mug Warmer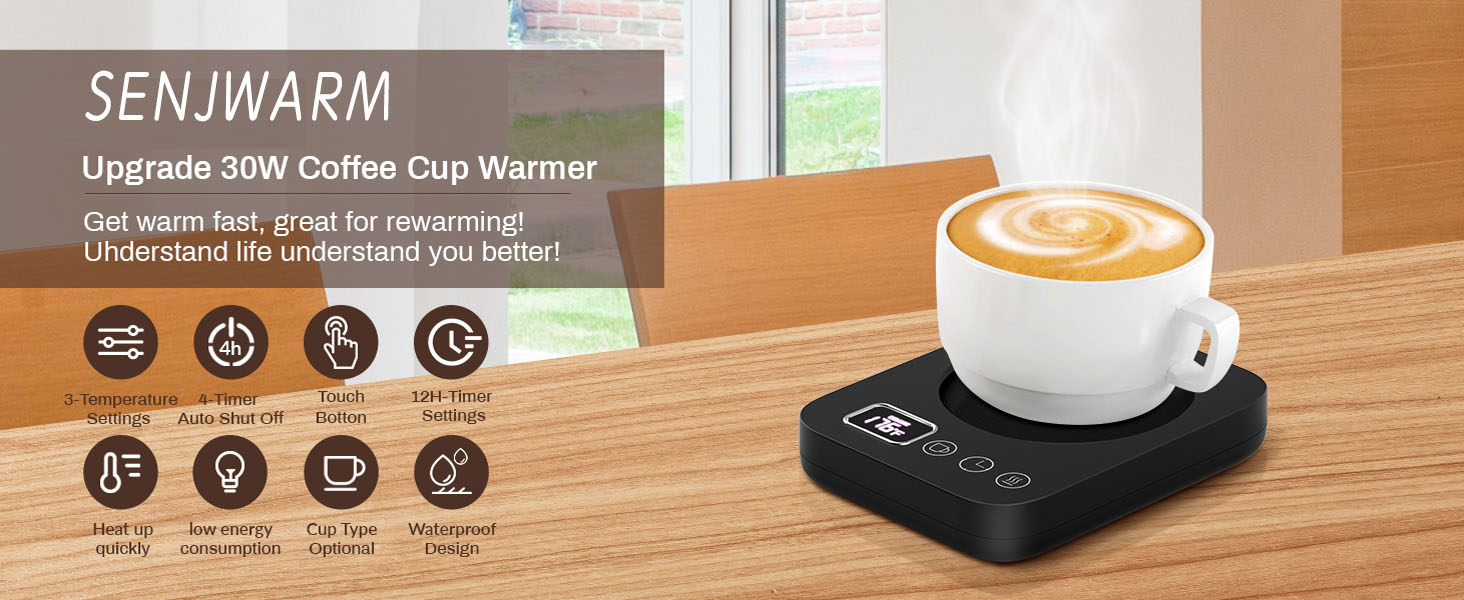 SENJWARM is passionate about providing you the perfect products to transform your dream home into a reality. With an ever expanding catalogue of space enhancing items, you'll be certain to find the perfect blend of handiness and charm to add to your life.
Makes Everything Beautiful
Have you ever experienced an interruption of so many times during your daily life your coffee always gets cold?I'm sure you've experienced it personally and been deeply troubled by it. Now,with the SENJWARM coffee warmer you can enjoy it at your preferred temperature all day long at work or home.
Smart Beverage Warmer with Touch Switch
Auto Shut Off Timer: When you're worried about the safety of forgetting to remove the cup and keeping the warmer on, our mug warmer for desk can be set to shut off on time. You can choose between 2H, 4H, 6H, 8H, 10H, 12H how long the coffee cup warmer will automatically turn off after continuous use
Easy Care & Safe for Fine Furniture
Digital Temperature/Time Display: More convenient to choose and display the desired temperature and time to shutdown.
COMPACT DESIGN:Waterproof, no need worry about the drinks spilling and easy to clean. Lightweight more convenient to carry, and 59 inch/150cm cable to improve mobility.
Never Drink Cold Coffee Anymore!!
Keeps Coffee Perfect Temperature
3 Temperatures Settings: Three temperature specifications: 130℉, 150℉, 170℉. You can select the temperature you want by pressing the power button.
Coffee Cold Down Quickly
Sip at warm or hot coffee all day, no longer worried about being interrupted by busy work.
8 other products in the same category: