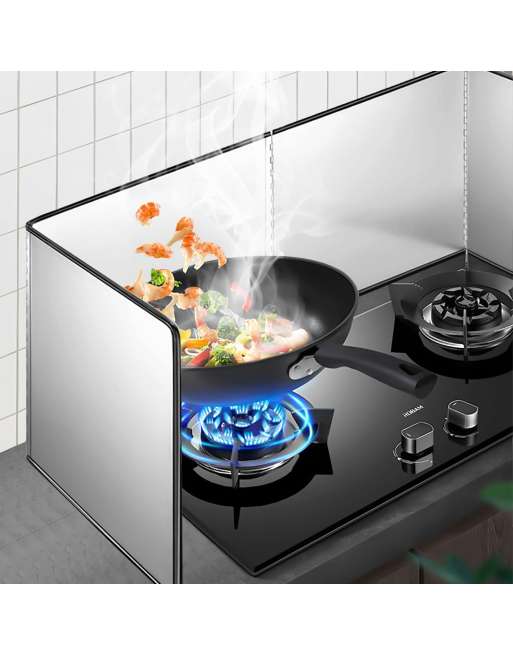  
Grease Splatter Guard for Stove 3 Sided Stainless Steel Backsplash Behind Stove Foldable Splash Shield Panel
Material: Stainless steel splatter screens 4 panel splatter guard can be folded into any shape you need and is easy to clean. The black edges prevent hand scraping and safer to use.

Anti Splatter Shield Guard: The surface has a durable non-stick coating that saves time on cleaning and prevents cooking oil from splashing onto walls and floors.

Foldable for storage: The oil splash insulation board is foldable for easy storage. It folds down flat,When you're done with it, just place it in a cupboard, drawer or pantry.
Security policy
(Paypal,Credit card secure payment)
Delivery policy
(Free shipping,Arrive within a week)
Return policy
(Free replacement within one month)
Splatter Screen Guard is designed to keep your stovetop or sink clean from splatters and spills. Consisting of a 4-panel design, this splatter screen guard is made from corrosion resistant galvanized steel, and a non-stick coating to allow for easy cleaning. To use this splatter screen guard, simply unfold the panels and place it around a stovetop or sink!
Made of304 stainless steel
Buyers Guide
- Sometimes lines may appear on the surface of the product, this is the shape of the original material and does not mean that the product is defective.
- The product may slightly scratch on the surface due to its stainless steel material.
- Some distortion can occur in the edges when being rounded.
- The stainless steel material is 0.19'' thin and so each panel can naturally have slight waves.
- Each panel does not have a preferred back or front side, both can be used either way.
To prevent oil spill
The stove and it's surroundings can be effectively protected from oil or food spills when cooking in the kitchen; Back splash protectors block kitchen oil spatter effectively;
Their heat insulation effect is good, can prevent the surrounding like plastic, spices, cans and so on to be heated or be out of shape; You can also use them as food washing splash plates
KEEP YOUR STOVETOP CLEAN
NON-STICK COATING
GALVANIZED STEEL/TOPPLE-PROOF DESIGN
MULTI-FUNCTIONAL FOLDABLE DESIGN
Long time usage:

Our stove wrap splatter guards are made of quality 304 stainless steel; The metal panels can withstand heavy cooking and high temperatures, corrosion and rust resistant, can serve you for a long time.There will be a protective film when you receive the goods, you can use it after tearing it off

Easy to clean and store

The splash-proof oil is easy to clean, just wipe it with a damp cloth after being stained with oil and These panels fold flat for easy storage and minimal cabinet clutter. The front and back of the guard can be used in common.it can be reused for a long time.

Edge protection

Each edge is protected by silica gel to prevent sharp stainless steel from scratching your hands. The corners were rounded to prevent scratches.

Please note: Please clean the splatter guard periodically, this will ensure that the product remains clean. Please do not place this product in a dishwasher.
When you buy the corresponding product, you must check the corresponding picture of the product with the specific size on it
8 other products in the same category: