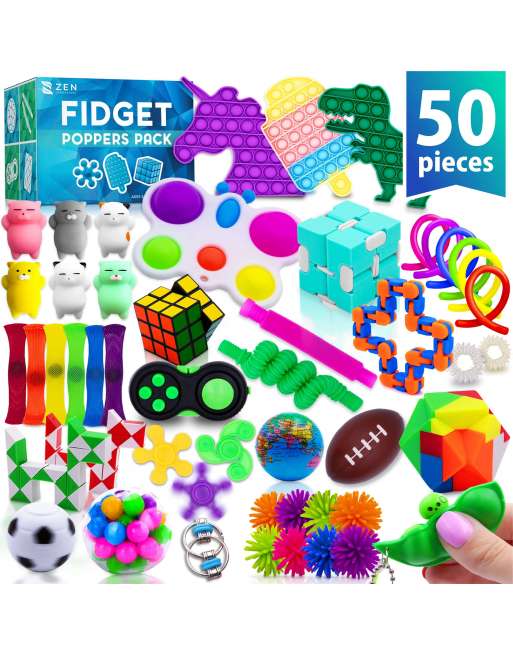  
Fidget Toys Easter Pop Its It Pack, Easter Fidgets Basket Stuffers Toy Gifts Kids
50 Pc Fidget Toy Box Pack Set of Mini Popit Sensory Toys with Poppit Dimple and Party Favors for Girls, Boys, Kids, Autistic ADHD Autism Children including New Figetget Figet Spinners, Pop Tubes
Security policy
(Paypal,Credit card secure payment)
Delivery policy
(Free shipping,Arrive within a week)
Return policy
(Free replacement within one month)
Stop Searching for the Perfect Fidget Toys Pack! This is it!
Are you children obsessed with fidgets? Are they asking you for marble and mesh, mochis, poppers, and sensory fidgets? Are you thinking, "I wish there was a box that had all of these fidget toys in one place!"? If this is you, look no further! Zen introduces the Fidget Toy Pack ends all searches!
Push Poppers
Race to see how fast you can pop all the bubbles, play a fun two-person strategy game, or simply just fidget for no reason at all.
Infinity Cube
Infinity cubes can be flipped and folded forever. The perfect fidget for brainstorming, working, or studying.
Colorful Stress Ball
This fidget is the ultimate stress ball! With a transparent outer shell and many colored soft balls on the inside its so fun to squeeze and squish.
Pop Tubes
Pop Tubes make an otherworldly sound as you expand them. Compress them to make a satisfying popping sound. Swirl the tubes to hear them whistle.
Zen Laboratory Fidget Toys Pack with 50 Pieces!
An Insane Value for the Fidget Obsessed!
Your eyes do not deceive you! If purchased separately each piece would total over a hundred. Our scientists packed the most popular fidgets including the infinity cube, dinosaur & unicorn poppers, fidget pad, snake cubes, wacky track, marble and mesh, pop tubes, mochi squish toys, and so much more!
Challenge Friends in Fun Two-Person Strategy Game!
Pop a few or pop an entire row, just don't be the last to go! This popper strategy game will test your creative thinking. At Zen, we want to encourage children to put down their phones, and play together.
8 other products in the same category: