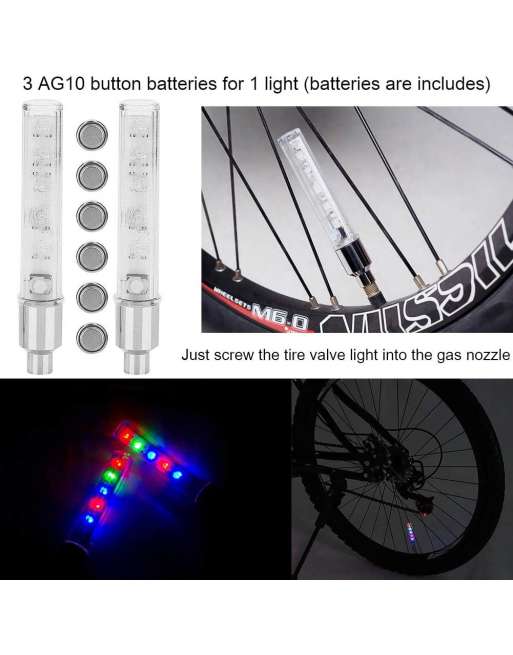  
Senjwarm WATERPROOF LED WHEEL LIGHTS - BICYCLE WHEEL LIGHTS BIKE WHEEL LIGHT CAP LED TIRE VALVE CAP WITH BATTERY MOUNTAIN ROAD
❤ Universal Valve Port: Package includes 4pcs tire valve light + 12pcs button battery . Suitable for any type of mountain bike, road bike, kid's bike, ordinary bike, car, motorcycle, bicycle, electric cars. Apply to merican valve and english valve. French valve unavailable.
Security policy
(Paypal,Credit card secure payment)
Delivery policy
(Free shipping,Arrive within a week)
Return policy
(Free replacement within one month)
Senjwarm tire valve light use manually control switch, press the button to change a flashing mode, which is very convenient and save power.
These led wheel lights have 5pcs high brightness led, not only increased visibility and safety for night cycling, also looks very cool and fun. When your wheel starts to move, it automatically flashes and forming a colorful aperture of light which make your car/motorcycle/bicycle look beautiful. Different speed will have different pattern effects. The faster the speed is, the more complete the pattern appears.
Specifications:
- Material: Plastic
- Number of LEDs: 5Pcs
- Color: 2Pcs red + 2pcs blue + 1pcs green
- Light Mode: 7 Flashing modes
- Switch: Manual control switch
- Tire Valve Light Length: About 10cm
- Power Supply: 1Pcs light use 3 AG10 button batteries (the product itself comes with 3 batteries)
- Installation Site: Tire valve
- Applicable Valve: Suitable for american valve, english valve.
- Universal Type: Apply to cars, mountain bike, road bike, kid's bike, ordinary bike, bicycles, motorcycles, electric cars.
- Installation Method: Unscrew the battery case, put the attached battery into the battery case, manually press the switch, the light will light up. And then screw the tire valve light into the gas nozzle. Press the button to change the flashing mode.
Package Included:
4 x Bike Tire Valve LED Lights
12 x Button Battery
✔ Warm Tips:
① The capacity of the button battery is relatively small, use the lights for a long time will cause the battery power to be consumed. If the tire lamp doesn't work after a period of use, please replace the battery to continue to use.
② If you have any questions or dissatisfaction with our products, you can email us at any time, and we will reply to you as soon as possible.
8 other products in the same category: